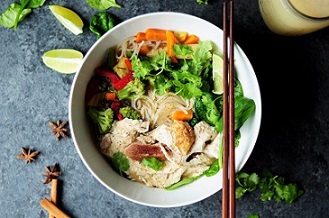 The introduction of the Canadian Food guide in July of 1942, was aimed at ensuring Canadians were consuming the healthiest mix of food during a time when our population was stricken with war and poverty. The considerations during the initial Food Guide were; war time rations, preventing nutritional deficiencies as well as improving overall health. The original guide consisted of six main food groups: Milk, Fruit, Vegetables, Cereals and Breads, meat (fish, poultry etc) and eggs.
Although there have been many revisions to the guide over the years, the intent of it's creation has remained the same. Educating the Canadian Public on healthy eating and the right balance of food options to reduce health concerns and combat growing rates of obesity among Canadians.
Changes have not been made to the Food Guide in over a decade, with the last revision released in 2007. Changes to the Guide are currently under consultation with Industry stakeholders and interested people. While the Guideline has not yet been released, we expect that part of the upcoming changes will identify that Canadian's are not consuming enough vegetables, fruits and whole grains. There may also be recommendations to include additional plant based proteins, this inclusion does not take away from animal based proteins.
Other aims of the upcoming Guide will include:
Eggs, Fish, poultry and lean red meat is preferred, eating less beef, pork, lamb and goat. Reducing advertising that is aimed at our younger population which direct them towards an unhealthy diet of processed foods high in sodium and saturated fats. Encourage more home-cooked meals and steer away from unhealthy processed foods.
So why is chicken still the best animal based protein source?
Availability and Cost Efficiency:
On average, more Canadians consume chicken than any other animal protein. Chicken products are the most cost efficient option when compared to it's red meat counterparts and are available in a wide range of formats, including: whole chicken, chicken wings, chicken thighs (bone in or boneless), chicken breasts (bone in or boneless) as well as, hearts, livers and gizzards. Fact: One 100g serving of chicken liver provides 100% of the daily recommended amount of minerals for men and 72% for women.
Nutritional Value:
Chicken is a go to option for it's high protein and low fat content. We compared Chicken and Beef using the popular site myfitnesspal, here are the results: 100g of grilled boneless skinless chicken breasts contains: 151 calories, 3g of total fat and 31g of protein.The same amount of Lean Ground Beef (uncooked) contains: 234 calories, 14g of total fat and only 21g of protein. Saturated fats are linked with increased cholesterol levels which can lead to the development of heart disease. The boneless skinless breast contained 1g of saturated fat where as the lean ground beef contained 5g of saturated fats. Preparing grilled chicken breast ahead of time and keeping it on hand for inclusion in omelets, salads and sandwiches is a quick and easy option for getting the required levels of protein into your diet.
Diversity:
Because of the availability of many different cuts and formats of chicken it is a diverse protein and can be used in a variety of meal options and cooking methods. This makes home cooked meals an easily attainable goal for busy Canadian families.
As outlined in our previous post - How to safely cook chicken; temperature cooking guidelines:
Recommended cooking methods / chicken cut

| | | | | | | | |
| --- | --- | --- | --- | --- | --- | --- | --- |
| Cut/Method | Braise | Broil | Deep Fry | Grill | Pan Fry | Roast | Stew |
| Boneless Breast | x | x | | x | x | | x |
| Bone in Breast | x | x | x | x | x | x | x |
| Drumsticks | x | x | x | x | | x | x |
| Whole Leg quarter | x | x | x | x | | x | x |
| Bone in Thigh | x | x | x | x | | x | x |
| Whole chicken | | | | x | | x | |
| Wings | x | x | x | x | | x | |
We are aware that knowing where our food comes from and what goes into the foods we are eating, are important factors for our customers. With the majority of our products focusing on specialty programs like Organic Chicken and Chicken raised without the use of Antibiotics and without the use Animal By Products, we are confident that Cericola raised chicken are the best options for healthy proteins in accordance with Canada's Food Guide.
Cericola Farms Natural Chicken products
Antibiotic Free Chicken and Chicken Free of Animal By Products (AABF):
Our Antibiotic free chicken is raised without the use of antibiotics, and unlike our competitors, is also raised without the use of any animal by products. Animal by products are defined as bakery by-products, other meat meal products and/or fish meal products that are added to the poultry diet.
Organic Chicken:
Meeting all the same standards as AABF Chicken products, Organic chicken goes further by eliminating the use of any pesticides and herbicides for the farmed grains that are fed to poultry grown organically. It also ensures that organic chicken flocks have access to the outside environment (weather permitting) so that they are raised as naturally as possible.
Halal Chicken:
Our Hand Slaughtered Halal Chicken also diversifies the availability of Chicken protein to those of us who require the process for cultural and religious reasons - Our Article - What does it mean when chicken is labelled Halal?
Its important to be informed about the choices you make in feeding your family and we at Cericola Farms take pride to ensure that the products that we produce not only meet the Canadian Food Guidelines, but surpass them. Our natural poultry products are what we feed our families, and we offer you this same quality that you should expect.
Last Updated:

03-15-2018

 By: