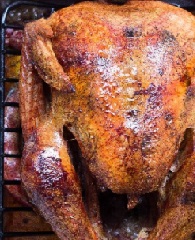 Thanksgiving is one of our most favourite holidays, there is so much to be thankful for and an opportunity to get together with friends and family.
One of the best things about Thanksgiving is the menu! Many of us will have the traditional meal, Turkey, stuffing, gravy, mashed potatoes, cranberry sauce and all the drool worthy sides. At Cericola Farms we like to think that a holiday meal isn't just for the holidays, we also believe that we shouldn't have to limit our meals to the traditional Turkey dinner.
There are many reasons that some of us choose non traditional options. Smaller gatherings may not be ideal for a whole roasted Turkey which which may be more suitable for larger groups. Cultural or dietary restrictions can influence meal choices also, lighter sides may be preferred over the heavier starches and gravies. Availability can be a factor, close to the holidays it may be easier to find the traditional items including Turkey. For some of us, Turkey preparation and cooking can be rather intimidating, the cooking time can be lengthy depending on size.
Why not try a roasted chicken for your next Thanksgiving dinner or gathering? Chicken is smaller in size when compared to the standard Turkey and is a better fit for a smaller group. Whole birds are readily available all year round which means the comforting holiday meal can be shared anytime of the year. One of the greatest benefits is the reduce prep and cooking time in comparison to the larger bird. For example the average rule of thumb for cooking a turkey is 20 minutes per pound, a 16lb bird could require up to 5.5 hours to prepare. The same cooking rule for the average size chicken would be approximately 1.5 hours.
Take a look at this link for one of our favourite Roast Chicken Dinners or follow our roasting guidelines and pair with your favourite sides!
Whole Roast Chicken Cooking Guidelines from All Recipes
Roasting Methods - There are two methods for roasting a whole chicken:
1) Regular method:
Preheat oven to 350°F (175°C).
Roast whole (thawed) chickens for 20 minutes per pound, plus an additional 15 minutes.
2) High heat method (this creates a crispy, darker skin):
Preheat oven to 450°F (230 degrees C) and cook whole (thawed) chicken for 10-15 minutes.
Then reduce the temperature to 350°F (175°C) and roast for 20 minutes per pound. (Do not add the extra 15 minutes to the cooking time as with the regular method.)
No matter what your preference, a meal shared with friends and family is always something to look forward to. Cericola Farms would love to be invited to dinner! Our Chicken products from conventional, Organic, Antibiotic free and Animal by product free options can be the perfect addition to any meal at anytime. Enjoy a holiday dinner anytime, contact us for more information.
Last Updated:

09-16-2018

 By: