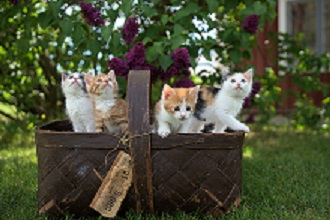 Dog owners are not the only ones considering homemade food for their pooches. Many cat owners are exploring raw and cooked meals prepared at home for their felines. While the basics are the same there are differences in the requirements for cats as opposed to dogs.
Size and health complications must always be considered when sourcing and preparing homemade recipes. Dogs are omnivores and can actually survive on an only plant based diet, cats however require protein from animals and have trouble digesting most fruits and vegetables.
Protein alone does not provide sufficient nutrition, the right balance of vitamins must be added to each preparation. Although carbohydrates are not necessary to a feline diet, a small amount can provide a burst of energy when included.
Additionally, consider the need to include; calcium, omega-3 and omega-6 fatty acids, amino acids as well as probiotics. While probiotics can be optional or a preference, the others are a key requirement in ensuring a balanced meal for your cat.
Calcium can be found in bones should you choose to include the recommended percentage of bones in your meals, if not supplements are available.
Fish can be a great source of Omega fatty acids. Including sardines like in the recipe below is a great way to capture this, otherwise a fish oil supplement can do the trick.
Taurine is a common inclusion in the majority of available recipes, this compound can be found in animal protein, but it is minimal and usually found in grass-fed animals, Taurine supplements are also available.
We have taken a look at two recommended recipes for cats. Proper storage and handling are always key to ensure that your pet and family are free of potentially harmful bacteria.
For more information on proper storage and handling, read more here.
Home made raw chicken cat food recipe idea:
350g chicken thigh meat
200g chicken heart
50g chicken gizzard
300g chicken neck, with skin
50g chicken liver
50g chicken kidney
50g sardines
1 raw chicken egg
Water (optional)
Chop all of the ingredients up into chunks, leaving the thigh meat as larger chunks and the offal into smaller chunks.
Place everything into a large bowl or bucket and mix in the egg.
Weigh out what your cat needs on a daily basis and then portion this up into containers.
Cat's need variety in their diet, this site is a great resource with many recipes available for different protein types.
The recommended feeding portion is 2-4% of your cat's total body weight, given that your pet is not over or underweight. Read the recommendations to ensure your cat is getting the proper required amount.
Home made cooked chicken cat food recipe idea:
This diet is a daily feeding for an average 12lb adult cat with no medical conditions:
83g cooked chicken thighs
50g cooked white rice
30g cooked sweet potato without the skin
¼ tsp fish oil
2.7g Balance IT Feline (commercial blend of vitamins and minerals)
Alternately add daily amount of required Taurine and calcium
Shred/cut up cooked chicken in a bowl (can be boiled or sauteed with olive oil), add cooked rice.
Cut up cooked sweet potato into small pieces and add to bowl.
Measure and add fish oil and vitamin mix to the bowl.
Stir all items together (can also be placed in a food processor to achieve desired consistency)
There have been many noted benefits from pet owners who choose to feed their cat a homemade diet. The majority of cat owners reported: healthier shinier looking coats and increase in energy levels.
The process of making your own cat food raw or cooked can be time consuming, however, it can result in cost savings by buying and preparing meals in bulk. Homemade also gives you the piece of mind of knowing that your cat is being fed a healthy well balanced diet, free of fillers and complex carbohydrates.
Cericola Farms can help make the process easier! Our Chicken products for pet food are available in a variety of options including (but not limited to), Chicken Necks, Chicken Backs, Organs, Ground Chicken and cuts such as Boneless skinless Chicken Breast, Thighs and Chicken Legs. All cuts are also available in conventional, Animal by Product Free, Raised without the use of Antibiotics, and Organic Chicken. Contact us and find the right item for your need.
Read more about our Raw Chicken Pet Food and follow our Pinterest 'Pet Food Options' for our Pet Food Recipe recommendations!
Last Updated:

06-03-2018

 By: