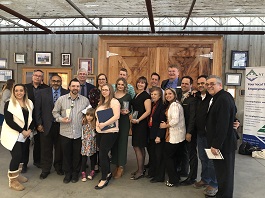 Cericola Farms receives Agricultural Award
Nottawasaga Futures is an organization which works with community partners to support local business owners at various stages of operation. Developing partnerships with South Simcoe Municipalities to provide additional economic development activities. Some of the Programs and Projects include: Business financing, private sector support and a Green Economy Center.
Photo 04-05-18: The presence of Our Town Mayor Rob Keffer, and area representatives during the Awards Ceremony further solidifies the dedication and community support of the BWG area. 5 members of our local community were also recognized in the awards ceremony.
On April 5th 2018 The township of Essa and The Angus and Area Chamber of Commerce hosted the 21st annual Nottawasaga Futures Business Excellence Award at Drysdales Tree Farm.
These awards recognize businesses in the categories of:
Agriculture
Customer Service for Micro Business
Customer Service for Small Business
Customer Service for Medium to Large Business
New Business of the Year
Green Leadership
Youth Entrepreneur
Student Entrepreneur
Entrepreneur of the Year
Business Excellence
The outlined criteria for the Agricultural Award is an enterprise in which principles of running a successful farm or related operation are applied resulting in a flourishing and thriving endeavour.
Cericola Farms is honoured to have received this award, as a growing business our focus remains rooted in our agricultural beginnings. Our family owned and operated business thrives to support local initiatives which continue to showcase the Bradford West Gwillimbury agricultural initiatives.
Our Bio:
What started out as a vision of Tony and Mary Cericola and contined along with second generation sons Anthony and Amedeo Cericola, has grown into nearly 60 years of a family owned business which currently operates two facilities in the Bradford Ontario area as well as a third facility in Drummondville Quebec.
With over 400 employees in our 3 facilities, our operating philosophy is simple and true to our founding principles. Listen carefully to our customers and provide wholesome, homegrown poultry products, fast and fresh to market.
Cericola Farms has launched products for some of Canada's largest retailers, we were among the first to introduce Organic chicken and Antibiotic Free chicken products to the market. Our products can be found in retail chains throughout Ontario and other Canadian Markets.
Tony sadly passed away in 2005 from lung cancer, his vision of a successful family farm is continued by Mary, now 82, and their two sons.
As a business it is important to understand that our market is diverse, keeping ahead of the changes has allowed us to deliver the right product mix for our customers. From local businesses to larger stores, each order is completed with care. We specialize in Specialty natural chicken products such as Organic, Antibiotic Free fed without any animal by-products and Halal chicken.
In Mary's own words "We came to Bradford and started our business and family here." ... "Our success was made possible through hard work, dedication and the support of our local community."
Thank you Nottawasaga Futures for this award and thank you Bradford West Gwillimbury for supporting our vision and continuing to maintain a strong presence in the agricultural footprint of Canada.
Click for more information on Nottawasaga Futures
Last Updated:

04-06-2018

 By: