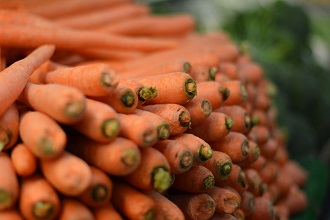 Originally known as "The Open Air Market" and "Super Saturday", Carrot Fest was developed to provide oversight for the union of Bradford and West Gwillimbury. What began as vendors selling their products in downtown Bradford, has grown into a festival which draws over 11,000 people to it's festivities, a number which continues to grow over the years.
The Holland Marsh contributes more than 70% of the national carrot supply. Carrot Fest continues to celebrate our town's agricultural heritage and has been voted one of Ontario's Top 100 events for 8 years in a row by Festivals & Events Ontario!
Attendees have access to vendor markets, kids zone and various main stage events.
Click here for a list of scheduled main stage Events
Other events include:
Legends & Classic Cars
Date: Friday August 17th
Time: 6:00pm - 10:00pm
Location: Courthouse Parking Lot - Holland St East
Scarlet Black Butterfly Circus
Date: Friday August 17th
Time: 5:30pm
Location: Kids Zone - Holland St West
BMX Stunt Show
Date: Saturday August 18th
Time: 11:00am, 2:00pm and 6:00pm
Location: Courthouse Parking Lot
Pony Rides
Date: Saturday August 18th
Time: 10:00am - 4:00pm
Location: Bradford & District Memorial Community Center
Look out for buskers around downtown Bradford who will be performing throughout the festivities. On Saturday August 18th located at Alectra - 49 Holland St West and Tim Horton's - Corner of Nelson and Holland St entertainers feature: Fire Guy; Itto Fire Show; The Ostrich Rider and a Hip Hop Violinist.
Carrot Fest is one of our Town's most popular events and Cericola Farms is proud to be one of the many sponsors in support of the celebration of our town's agricultural roots. For more information on Bradford and our history, give our post a read.
Cerciola Farms is an proud member of the Bradford community, our products are true to the home grown values which remain deeply rooted in our town and it's history. Our products are available in Conventional, Organic, Animal by Product Free, Antibiotic Free and Hand Slaughtered Halal options. A balanced meal consisting of locally homegrown fresh vegetables and the freshest poultry products is perfect for you and your family, local availability makes Bradford a one stop shop any time!
Last Updated:

06-31-2018

 By: