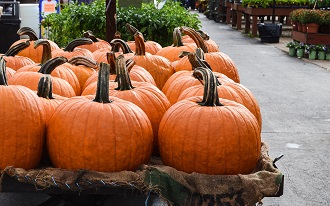 It's official, fall is here. Leaves are changing their colours and pumpkins are everywhere. This time of year it s easy to find an array of available pumpkin spiced items. From Starbucks to Tim Hortons, the availability of pumpkin flavoured drinks and pastries are in abundance.
Pumpkins are used in a variety of ways, of course in desserts, mains and even as decoration. Many porches are adorned with hay bales, straw and pumpkins each fall. Their appearance marks the beginning of this new season and let's us all know that Thanksgiving and Halloween are just around the corner.
In Bradford pumpkins are something to be celebrated. Bradford is home to Pumpkin Fest which will be having it's second annual season this year. There are many events and activities throughout the day which are of no cost to event goers. Some of the activities and events include: live entertainment, cow milking contest, inflatable corn maze, pumpkin carving, baked goods for purchase, games and more.
For a full listing of events visit the official BWG Pumpkin Fest site.
Event details:
Date: Saturday, October 13th, 2018
Time: 11:00am - 3:00pm
Location: Henderson Memorial Park (3171 9th Line)
Cericola Farms has been a proud member of the Bradford community for over 60 years. The small town feel and agricultural roots have given home to many businesses like our own. Come out and support local growers as well as talent and businesses while we celebrate the fall season and of course... Pumpkins!!
Give our previous post a read for more BWG insight.
Last Updated:

10-08-2018

 By: